Advantages and disadvantages of online learning
Is online learning something you can implement in your organization? How can you make sure it's a good investment? What are the advantages and are there any disadvantages to online learning?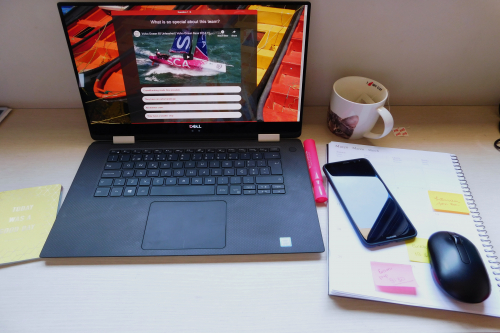 What are the advantages/benefits of online learning?
Online learning (e-learning) is a growing trend in the learning industry, no questions there. But, why is that? Some of the advantages are:
It's cheaper: your users can learn using any device connected to the Internet. There's no need to spend a lot of money renting a building, paying an expensive electricity bill, internet connection and running water so you can get your students physically there to take courses. And a lot less money spent on transportation.

It takes less time: there's no need to spend time commuting to and from the classroom, for both the teacher and students. Also, the teacher/trainer doesn't need to give the same class over and over again to a different group of students. He or she only needs to prepare the content once, and then share it different groups of students – not necessarily at the same time.

It allows for self-paced learning: students or trainees can take their courses anytime, anywhere. Using their own devices. Students who don't have time for regular classes can learn online whenever they have the time for it.

It's modern: Most people today prefer to consume content using the Internet rather than in any other way. Actually, the very fact that you are reading this right now is proof of that! That includes reading the news, watching TV, talking to friends, booking appointments, shopping... and the list goes on. Why should learning still remain strictly traditional while everything else seems to be going on a different direction?
What are the disadvantages of online learning?
Are there any? 😅 Yes, there might be some disadvantages to online education:
It takes self-discipline: although experience has shown that online students are forced to become more self-disciplined, unengaged learners could be a challenge if their activities cannot be monitored in class

Plagiarism: if your students are using a computer and not being watched by you at all times, they may plagiarize essays and other assignments.

Cheating: it can be easier to cheat if you are taking an online exam.

Isolation: since you don't have to be physically present in a classroom in order to learn, it might be more difficult (or nearly impossible) to get in touch with other learners.
How can the modern learner overcome these challenges?
Although e-learning can bring some disadvantages, at Easy LMS we are pretty biased and believe that the advantages outweigh the disadvantages by far.
Self-discipline can be acquired and is a quality that will benefit learners in ways that go far beyond learning.
Plagiarism and cheating can happen in traditional learning scenarios as well, and there are ways to prevent that from happening in online exams (and plagiarism checkers available online) that are not possible to use in a regular classroom.
Isolation can be solved if you combine different ways of learning as in blended learning, allowing more interaction between the students.
Useful resources
NC State University
University of Illinois
More articles that might interest you